This offer is subject to change.
BECOME A BESTSELLING AUTHOR
IT'S TIME TO BECOME A BESTSELLING AUTHOR THIS YEAR!
COMMIT TO WRITING A BESTSELLING BOOK THIS YEAR!
I am on a mission to help 20 people become bestselling authors in 2019. I have helped 5 of my clients become Amazon bestselling authors too.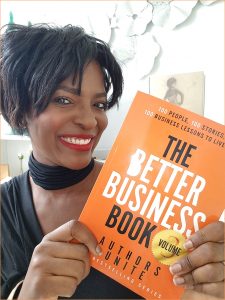 You may know, I am now a 4 time Amazon bestselling author.  I am one of the authors and the first listed in a Better Business Book V3 and the book became a bestseller on launch day. 1 in Entrepreneurship #1 in Business & Investing #1 in Small Business #1 in Nonfiction #1 in Creativity #1 in Self-Help #8 in the Entire Store. It launched on Jan 2nd. My topic?-Ten Things You Can Learn From My 10 Years in Business. Plus, having a husband with a New York Times Bestselling book gives me access to information that helps you succeed too.
I only have room for 20 people. If you're serious about adding the title BEST SELLING AUTHOR to your name next year, listen to the audio and pick one option below. I look forward to making this wish a reality for you. Having a book with your name on it adds to your personal brand power, credibility and opportunities to build income as a speaker. Plus, the lifetime residual income is a lovely blessing every 90 days. 🙂
Let's do this
TWO OPTIONS TO BECOMING A BESTSELLING AUTHOR IN THIS NEW YEAR
OPTION #1
BESTSELLER IN A WEEKEND
*update Bestseller in a Weekend is now $997
Write your bestselling book in a weekend
Increase your credibility
Attract more customers/clients
Become a Professional Speaker or a Workshop Facilitator
Learn to secure corporate sponsorships & partnerships
Learn to turn your book into an e-course
Understand how to use product placement to secure funding with your book
Learn how to make money with bulk sales.
Connect with other writers and get live feedback form your target audience as you work LIVE!
$997
only 8 spots available
OPTION #2
AUTHORS UNITE (THE COLLECTIVE)
*this open is open for you until February 28th
Be a bestselling author
Have a professionally edited chapter in the next Better Business Book
Be a featured author on Amazon, Barnes & Noble, and all other major online retailers
Have a Kindle, Paperback, and Audiobook version of The Better Better Business Book
Have lifetime access to the Authors Unite Mastermind Community with all the authors
Know exactly how to publish and launch a bestselling book
Complimentary graphics of the book to help you with promotions
Swipe files to assist you with marketing the book
$297
only 5 spots available
"Here is a bonus - If you sign up for option one, my graphics team will create your visual collateral to promote your book, plus you'll get my swipe file for pitching to the media or getting reviews on your book

This bonus also includes

Over 20 web graphics (for social media- ft, twitter, youtube and instagram + website graphics)
Book Mock up designs
Distribution to over 50 e-stores including: google play, nook, Baker and taylor, Playster and so many others.
Plus I'll invite you live on my instagram to talk about your book to my community of 14k plus. All this originally valued at $3500. You'll get this for $2,500"

Yetunde Shorters Founder- ICY PR & ICY ACADEMY
Sign Up For The Bonus offer!
sign up for the bonus and get a chance to share details of your book to my 14K+ audience.